As many of you know I am a hairdresser, and lot of you have asked for styling tips and ideas. Sometimes I have a difficult time expressing to people and clients hairstyles ideas that I think are simple and stylish to reproduce. So, I asked my momma blogger friend Nicole (visit her
here
) to demonstrate her two signature styles. Don't you just love her sleek bun? She has the perfect face for that that super chic look!
Hello Amongst The Knick Knacks readers, I'm Nicole from Pussycat Vintage! I have to say I am very flattered to be on Miss Deb's blog today! When she came to me about this post I found out that she had quite brilliantly come up with names for the two ways I wear my hair the most. I think they're quite fitting and hilarious. Only Deb would do something so sweet and awesome! So here they are, The Pussycat and The Nicole. This is the first time since I was 14 that I have had long hair so styling it is a whole new world to me. I want to mention real quick that all of these photos were taken by my 11 year old, Logan. I think he did a great job and he was very patient with his mama!
THE PUSSYCAT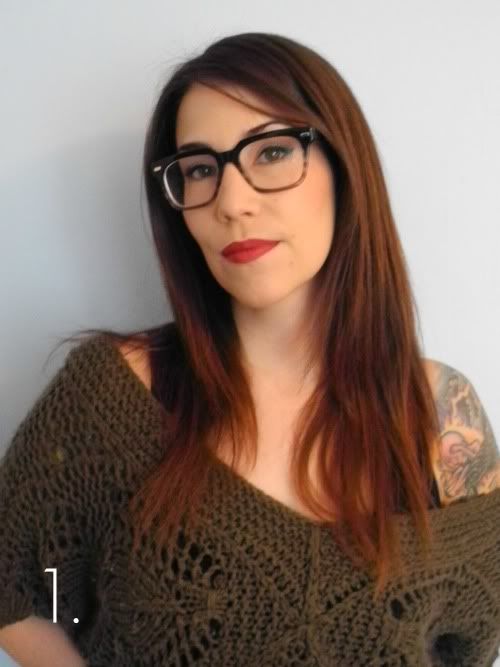 1. I always start by washing, conditioning and blow drying my hair so it's nice and clean. I also make sure my flat iron is getting nice and toasty.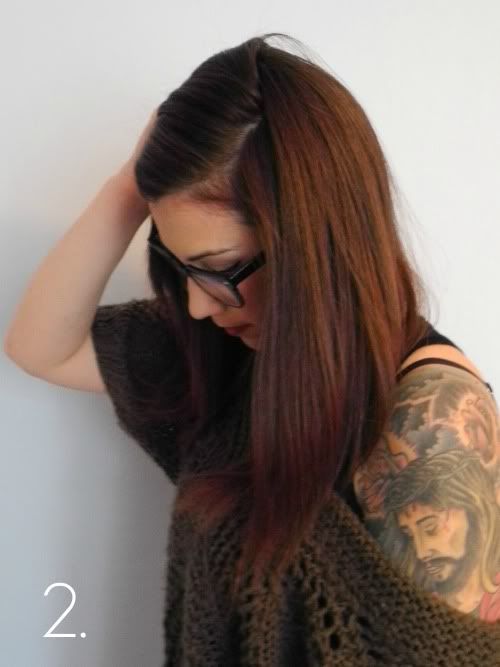 2. I section my hair off with bobby pins to curl sections at a time. This way I know every piece gets curled and I don't have some rogue straight piece roaming around.
3. I curl sections about this wide one at a time and start higher up and curl my way down.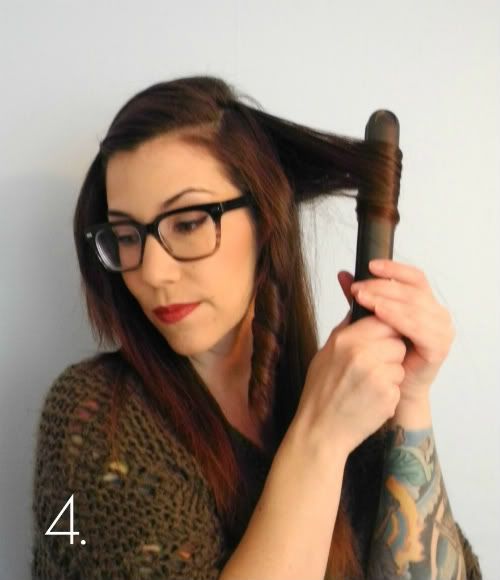 4. I wrap the entire section around the iron, all the way down to the tip. I curl it for 5-7 seconds.
5. Your curls should come out like this. Long ringlets. I usually make some tighter and some looser.
6. Curl all of your hair in these ringlets so they look like this. Ringlet city baby!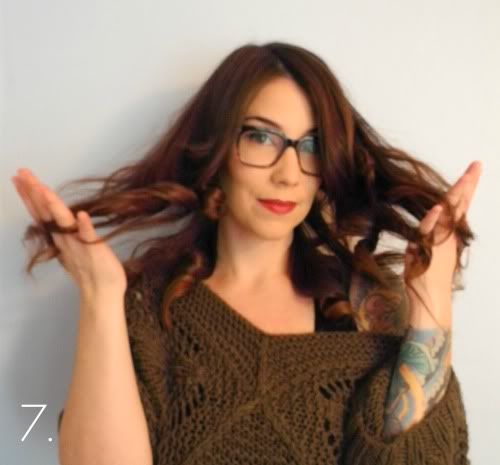 7. Run your fingers through your hair several times to loosen up the curl and separate them. This gives your hair more body and bounce!
8. Smile, and enjoy those pretty soft, full curls! I usually add a little bit of hair spray to make sure everything stays in place for the day.
THE NICOLE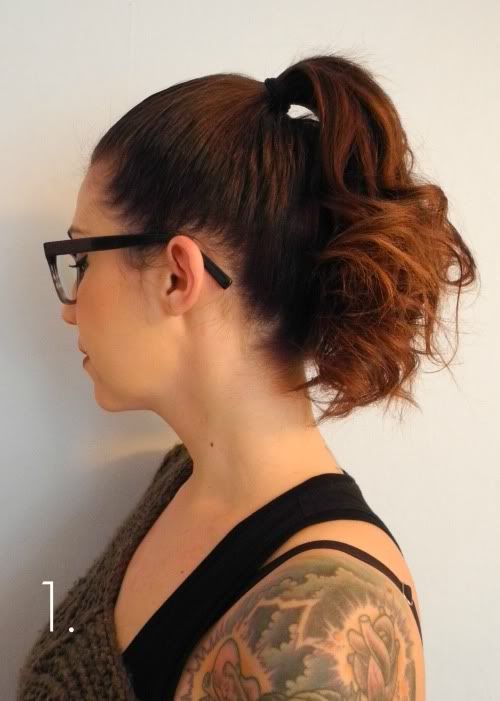 1. Pull your hair up into a tight ponytail on the very top of your noggin. Make sure you don't have any crazy bumps or stray pieces hanging out.
2. Twist your ponytail so that it looks like this.
3. Take your twisted pony tail and start wrapping it around the base of your ponytail into a bun.
4. Take the end of the ponytail and wrap it under your bun.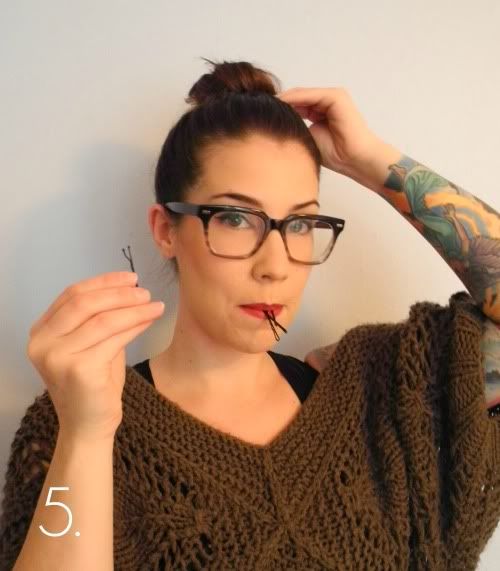 5. Grab those bobby pins and start pinning your bun in place. I try to stay as close as possible to the bottom of the bun.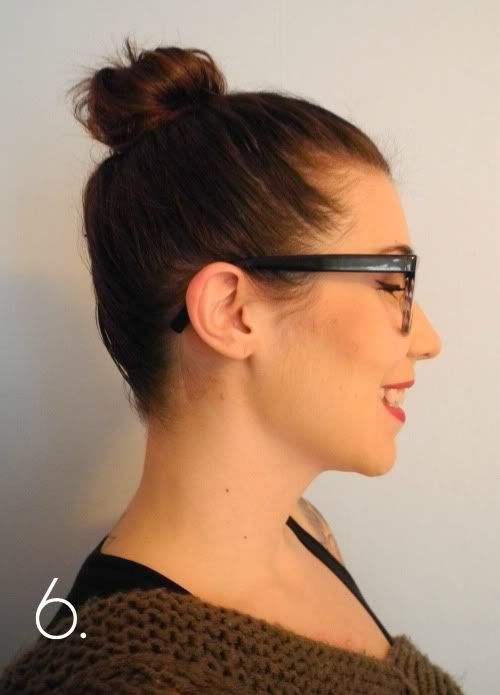 6. Pin up any stray pieces and check out your sweet bun! I wear this a lot because I am almost never in the mood to do my hair, who is? It's a great quick and easy look!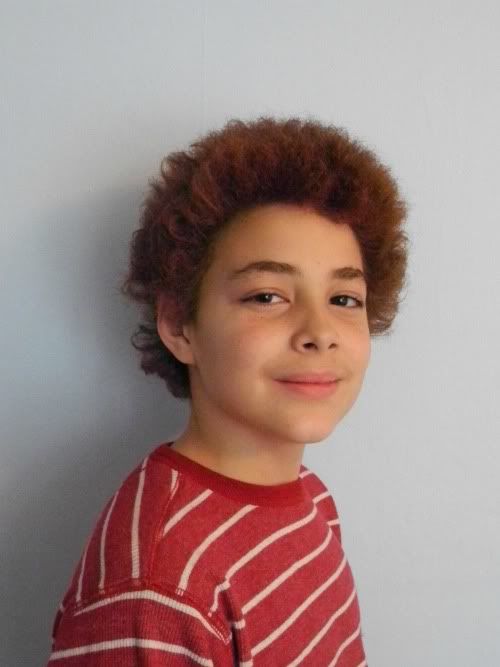 All photos taken by this handsome guy with the afro that desperately needs picked out, my son Logan.